Cambridge University Cycling Club
We cater for all University members, providing access to all cycling disciplines from beginners to elite athletes.
As well as competing in BUCS races, we regularly organise social and touring rides which allow beginners to improve their fitness and to discover the countryside around Cambridge and beyond.
News about training, races, and results will be posted here. Check out our calendar of upcoming events on 'Training & Events'.
Sign up to the club mailing list here.
A report of the Varsity Road race and BUCS 25 event by Women's captain Zoe Burell
On Sunday 3rd of April, while most eyes were focused on the Cambridge-Oxford boat race, BUCS 25-mile TT returned to the roads of Cambridgeshire. With one-hundred-one students competing from universities across the country, it looked set to be an exciting race on CUCC's home turf. Furthermore, with Oxford able to attend this year, BUCS 25 doubled up as the cycling varsity match. Cambridge came prepared for the challenge putting forward a strong team of eighteen men and four women.
The day started with the women, the first rider off for Cambridge was Maddie Angwin. Completing her first 25 mile TT, although, with a couple of hilly TTs under her belt (helpful on the last brutal straight of the Botty triangle), Maddie put out an impressive time of 1:09:34. Next up was Phoebe Barker who despite being on a road bike set-up put down the power and achieved an absolutely rapid time of 1:04:31. Experienced racer Charlotte Brass, was Cambridge's third rider completed the course in 1:11:47. Zoe Burrell was the final rider of the women's team narrowly making her start, she finished with a time of 1:04:11. This gave the women's team a competitive time of 2:08:42, just 3 seconds off a podium position. There was also individual success for Maddie, Phoebe and Zoe who also achieved their half blue!
Next off were the men! Ryan Gilfeather, Neil Ibata and Jacob Lewis were looking speedy, finishing their two laps of the course with times of 1:08:55, 1:04:39 and 1:01:37 respectively. Joe Lunn, one of our two events secretaries, carried out an impressive juggling act. When Joe wasn't at HQ helping to organise the event he was smashing the course, finishing with a time of 1:00:10. Time differences were tight between Luke McCarron (59:33), Matt Rizzo-Naudi (59:28) and Tom Wade (59:23), they completed the course with just 10 seconds between them! Going faster still was Jack Shuttleworth (59:11), Fabio Albertani (58:51), Tim Welsh (58:20), Luke Andrews (57:55) and Tom Hale (56:29).
The Cambridge men's B team this year were well equipped with new TT bikes making an inaugural appearance for Joe Adlam-Cook and James Cummins who achieved times of 56:03 and 55:49 respectively. The team was completed by Jack Kellam who flew round, completing the course in 54:37, this gave the trio a team time of 2:46:29.
Even faster were Joris Wistok, George Spooner and Theo Weinberger who made up the men's A team. Joris zipped round the course with an impressive time of 54:03 just three seconds off George Spooner's time of 54:00. George had already had considerable success in BUCS events this season coming second overall in the Hill Climb late last year and had spent the evening before organising the delivery of a huge pile of skinsuits for all those racing. Fastest rider for Cambridge was Theo Weinberger with an undeniably quick time of 53:19 placing him an impressive 10th in the individual results. We won't mention that was just eight seconds slower than brother and Oxford student Harvey Weinberger! This together gave the men a collective team time of 2:41:22, just two seconds off 3rd place on the men's team podium!
As the day came to a close and the award ceremony was completed, there was Varsity Dinner to look forward to and Varsity results to announce. Unfortunately, this year it was not to be with Oxford taking all of the wins in the Varsity match, their super strong team of both men and women putting down some amazing rides across the board. Despite this, I am sure all involved would agree that it was a fantastic day with great results and an amazing atmosphere. It would not have been possible without the huge effort from all the volunteers, in particular James Quigley and Joe Lunn whose unparalleled organisation skills saw that the day was a smooth success!
Varsity MTB report
First a race report by Maddie Angwin:
On an unseasonably sunny Sunday morning (27/02), Cambridge University Cycling Club (CUCC) travelled down to Frimely Green, Surrey to race Oxford in the annual Varsity Mountain Biking match. The race, taking place as part of the Gorrick XC Series 1, saw Cambridge crowned victorious, marking a fifth consecutive win for the men and fourth for the women.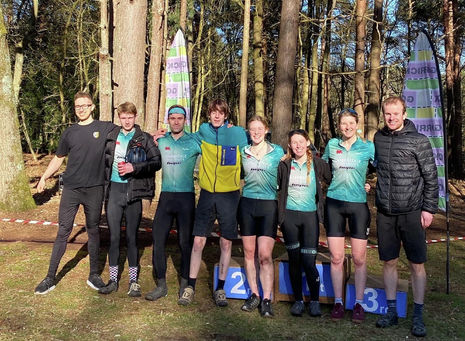 Spirits were high upon arrival to the course and meeting the Dark Blue squad, which consisted of fourteen riders (eleven men, three women) compared to the Light Blues' eight (five men, three women). The difference in team size, though favouring Oxford, was heartening compared to last year's race when the Oxford team never materialised.
The course was a technical four-mile loop, described as a "bowl of spaghetti" by the racers due to its skinny nature, with limited passing spots and a significant number of switchbacks. The men raced four laps and the women three. A variety of rooty climbs, narrow descents, and tight corners saw the riders' technical abilities and fitness challenged.
After a practice lap to assess the course and conditions, the racing began. Following team tactics of a max effort sprint off the start, Cambridge gained position rapidly. However, the Oxford riders were still in hot pursuit. Yet, the technical drops, tables, and climbs, all within the first section of the course, split up the pack quickly. With adrenaline levels high, yells of 'Come on Cambridge' and 'Let's go Oxford' could be heard reverberating around the forest.
These shouts of exuberance were quietened, however, as the intensity of the start-line sprint caught up to the riders. They had no chance to catch their breath or rest their legs as the undulating nature of the course kept the intensity of the race high.
Taking the corners deftly, Cambridge's Tom Wade and Iyla Kaysin, along with Oxford's Thomas Long, were in close competition for the lead during the first lap, while Matt Bryan, Jack Bonfield, and Sam Fitzgerald battled Oxford's Jack Bogdan and Samuel Singler for position, leaving the rest of the Oxford riders in the dust.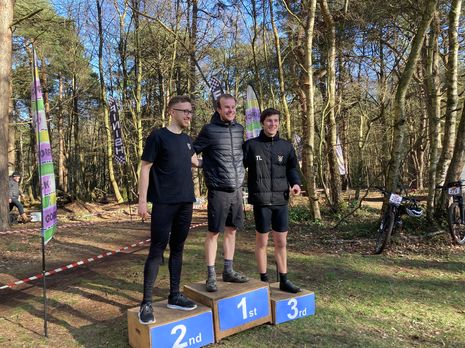 In the women's race, Maddie Angwin put in a strong effort for the Light Blues, gaining the lead and battling some of Oxford's men for position. Fizz McNally and Liv Alliott grappled with Oxford's Freya Butler and Elizabeth Hayman for standing. In such a tight course, with limited passing places, gaining position and holding it was paramount to a successful race.
Unfortunately, McNally and her bike had a "domestic" during the race, but her mechanical mishap pushed her to put in a stronger effort for the second half of the race.
Crossing the line first, Cambridge's Wade secured his second consecutive Varsity win with a mightily impressive two and a half minute gap to the next rider. Kaysin managed to fend off Oxford's captain Thomas Long to take second, with the Dark Blues' leader coming in third.
With a pacey final sprint across the line, Matt Byran's fourth-place enabled the Cambridge men's team to take the overall win. Impressive races from sixth-placed Jack Bonfield and ninth-placed Sam Fitzgerald left only three spaces for Oxford's riders in the top half of the leaderboard, with the remaining riders left to fill out the bottom half of the results table.
The women's field offered an equally strong performance. Leading the women's race from the off, Cambridge captain Angwin secured pole position, with the other two podium spots being filled by Oxford's Freya Butler and Elizabeth Hayman. However, impressive rides from Olivia Alliot and Fizz McNally to take fourth and fifth respectively, paired with Angwin's runaway win, allowed the Cambridge women's team to triumph over their Oxford opposition.
Crowned reigning champions after a brilliant day of racing, Cambridge proved that quality triumphs over quantity and left Oxford to scheme for their return next year.
BUCS Track report
Second the BUCS Track report by Joe Adam-Cook:
CUCC Cuppers report
And finally the Cuppers TT report by Maddie Angwin:
On Saturday (5/3), removed from the crowds lining the river for Lent Bumps, another intercollegiate competition took place – cycling Cuppers. Taking the format of a time trial (TT), which is often considered the purest form of racing, the riders pushed themselves to the limit to complete a 10-mile (16 km) course in as fast a time as possible.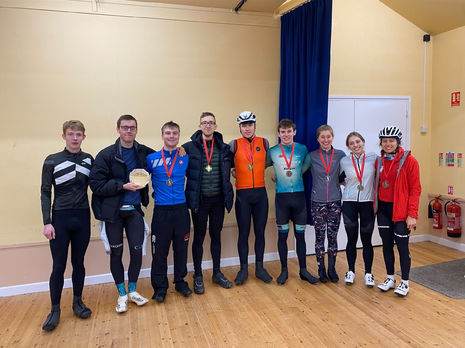 Racing the Bottisham TT course, a unique out and back road with a motorway bridge (read: mountain) in the middle, the riders battled the elements to produce some impressive results. With a starting line-up of 50 riders from 24 colleges, competition was set to be tight, especially given the gruelling conditions.
Setting off at one-minute intervals, the riders worked to chase down the target in front of them, and hoped not to be overtaken by the cyclist behind. The race saw a range of bikes – from mountain to time trial, and everything in between – putting tyre to tarmac.
The stopwatch started and the first rider was off. Hearts thumping, legs aching, and pain faces a plenty, the race was tough from the get go. The art of a time trial is to sit on the edge of your ability, pushing to, but not over, the limit. For some riders, there was too much gas left in the tank at the end, others burnt out too soon, but a trained few paced it to perfection.
In a race with so much variation in ability and equipment, there were a range of prizes to be won and points to be earned, with individual results going towards the Cuppers trophy.
If cycling on the road on a mountain bike is hard, competing in a time trial on a mountain bike is near intolerable. Yet, the beefy 27.5" tyres, un-aerodynamic geometry, and weight of the mountain bike didn't seem to bother Ilya Kaysin (Sidney Sussex), who flew around the course in a staggering 30 minutes 52 seconds to take home the town bike championship.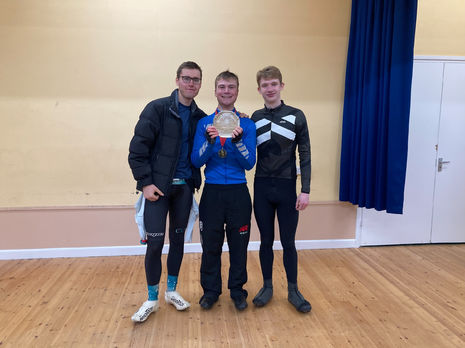 Blitzing around the course in 23 minutes 38 seconds, James Cummins claimed victory in the road bike category for Jesus, an impressive feat considering the strength of the competition. Though not awarded medals, congratulations must also go to Matt Rizzo-Naudi (Selwyn, 25:08) and Neil Ibata (Trinity, 25: 42) for placing second and third in the road bike category respectively, managing to break up the bulk of the TT bike competitors at the top of the field.
The women's category saw some fast and fierce competition, with Newnham's Charlotte Dalton putting in a strong race to finish third with a time of 27 minutes 48 seconds despite a plethora of mechanical mishaps on the ride over and a last-minute wheel change.
Competing in her first ever TT, Robinson's Phoebe Barker put in a stellar performance to place second with an impressive time of 26 minutes 38 seconds. Claiming victory on the women's side, Murray Edwards' Zoe Burrell raced round the course in a rapid 26 minutes 13 seconds, claiming fourth overall for her college despite being the only rider to participate.
Competition on the men's side was highly competitive, with only 55 seconds separating first and fourth place. Cambridge University Cycling Club's most elusive member, Tom Hale, made a brief (22 minute and 11 second) appearance in order to claim third place for Fitzwilliam. Coming in 11 seconds faster, with a strong time of 21 minutes 58 seconds, Joris Witstok dug deep to gain second place for Sidney Sussex before flying off to earn his college success in the rowing too.
However, none of these remarkable performances were fast enough to top George Spooner (Magdalene). Averaging 44.3 kilometres per hour, Spooner decimated the course in 21 minutes 47 seconds to achieve first place.
The blisteringly fast performance by Spooner, paired with impressive races from Joe Adlam-Cook (5th, 23:15) and Matt Bryan (19th, 26:55), allowed Magdalene to run away with the overall win to become this year's Cuppers champions, a feat they'll hope to recreate next year.
On Saturday 19th February, CUCC held another fantastic Alumni Dinner at Jesus College, Cambridge. Despite the best efforts of Storm Eunice and National Rail, 47 attendees, including alumni from the 1980s up until the 2020s, and the current CUCC Committee, made it along for a delightful evening of good food and reminiscing.
The evening started off by sharing images of CUCC throughout the years and a great game of "that's me!" (with bonus points for being in an ugly skinsuit or on Spinergy wheels) as everyone filtered in undeterred by the wind. The Head Butler then took great pleasure in breaking up all the conversation and greetings between long-lost friends with the gong to commence the meal.
Plenty of stories from CUCC's past were shared over the three courses, and as someone relatively new to the club, it was great to hear that not much has changed in the last few decades; we still love to sprint for the Cambridge town sign and dish out the pain on each other on Sunday morning ride, but we are all still united by a passion for bikes!
I'd like to say a big thank you to everyone that came along to the dinner and for making the evening so wonderful, and to this year's committee for everything they do to help make CUCC happen. To all those who enjoyed the evening so much that they enquired, we intend the Alumni Dinner to be an annual occasion and hope to see you again next year, if not before.
Matt Bryan
CUCC General Secretary 2021-2022
CUCC Alumni Dinner 2022
Back Row: Tim Johns, Miranda Robbins, Graham Couchman, Andrew Brown, George Gekov, Joe Adlam-Cook, Michael Hutchinson, Joris Witstok, Jake Stuchbury-Wass, Gabriel Fowden, Jali Packer, Dougal Toms, Ethan Tebbutt, Stephen Chen, Dan Cox, Peter Robinson, Eliott Lindsay, James Cummins, Nathan Parker, Jack Brown, Matt Rizzo-Naudi, Becca Parkin, Matt Bryan
Middle Row: Mickie Couchman, Maria Waldhoer, Rob Selby, Sue Selby, Bekah Nash, Charlotte Brass, Lukaz Weilguny, Zoe Burrell, Maddie Angwin, George Spooner, Seb Dickson, Alex Petter, Lavinia Delfini, Joe Lunn, Matt Davison, Nick Grogan, Rob Walker
Front Row: Reg Legaac, Phoebe Barker, Charlotte Dalton, Elspeth Grace
Off Left:  Robbie Blythe, Ffion James